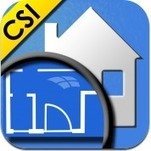 MagicPlan CSI for iPad lets your students create a crime scene sketching. You just take pictures on the room and position evidences around the room. You can then annotate the floor plan.
An electronic report is then automatically generated and sent to you by email. This is a cool way to get middle school kids excited about science. I did this with several schools and used some of the materials from the FBI site (teaching fingerprinting, DNA analysis, etc.).
Just imagine recreating a simulated crime scene to hook students so they are motivated to learn?