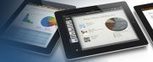 The iOS 5.1.1 update fixes four separate vulnerabilities, including one that could be used to take complete control of an affected device.
Apple has shipped a high-priority iOS update to fix multiple security holes affecting the browser used on iPhones, iPads and iPod Touch devices.
===> This patch is only available via iTunes. To check that the iPhone, iPod touch, or iPad has been updated:
- Navigate to Settings

- Select General

- Select About. The version after applying this update will be "5.1.1″. <===
To apply as quick as possible, please!
Read more...