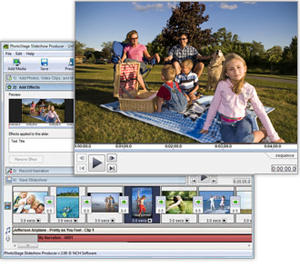 Creating a photo slideshow has never been easier.
Bring your digital photos to life
Share memories in an interesting and portable way
Easily combine pictures, video clips, music and narration
Preserve your memories with a multimedia slideshow presentation you'll be proud to share with friends and family. Add photos and videos to the timeline, add visual interest with panning and zoom effects, and place fade transitions between slides for a professional finish.
Get it Free. A free version of PhotoStage is available for non-commercial use only. The free version does not expire and includes most of the features of the normal version. If you are using it at home you can download the free version here.
Get It Now
Purchase
Slideshow Creator Software
Easy-to-use - Drag and drop images to arrange the slides. Or turn a folder of images into a slideshow with Quick Create.
Full of effects - Includes zoom, crop, fade, panning, zooming and more to bring your photos to life
Enhance your photos - Touch up or enhance your photos and videos with optimization tools
Multimedia presentations - Add thousands of photos and video clips, then add captions, music and narration
Easy to share - Burn slideshows to DVD, save as video files, or optimize for the web and portable devices
Via
LucianeCurator