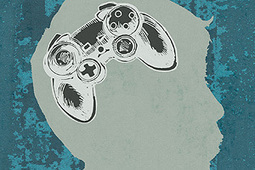 by Daniel Johnson
"Our research has shown a range of benefits associated with playing video games, whatever their content.
"We have shown improvements in mood, reductions in stress, and feelings of competence and autonomy resulting from playing video games.
"Our studies of play with others have revealed benefits for young people in terms of social wellbeing and feelings of relatedness.
But importantly, we have also found co-operative video game play to be associated with increased brain activity for younger people.
"More broadly, using a well validated measure of mental health and wellbeing, we have found evidence that for adult players, a positive impact on wellbeing resulted from playing video games with other people.
"In a randomised controlled trial with a clinically depressed sample of adults, the positive influences of video games have been shown to include a reduction in tension, anger, depression and fatigue and increase in vigour."
Via
Jim Lerman
,
massimo facchinetti