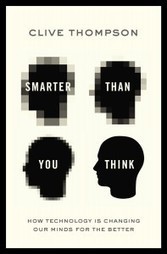 "A public library keeps no intentional secrets about its mechanisms; a search engine keeps many."
Clive Thompson argues that our technological tools — from search engines to status updates to sophisticated artificial intelligence that defeats the world's best chess players — are now inextricably linked to our minds, working in tandem with them and profoundly changing the way we remember, learn, and "act upon that knowledge emotionally, intellectually, and politically," and this is a promising rather than perilous thing.
And therein lies the magic of the internet — that unprecedented access to humanity's collective brain. Thompson cites the work of Harvard psychologist Daniel Wegner, who first began exploring this notion of collective rather than individual knowledge in the 1980s by observing how partners in long-term relationships often divide and conquer memory tasks in sharing the household's administrative duties.
[…]
Wegner called this phenomenon "transactive" memory: two heads are better than one. We share the work of remembering, Wegner argued, because it makes us collectively smarter — expanding our ability to understand the world around us.