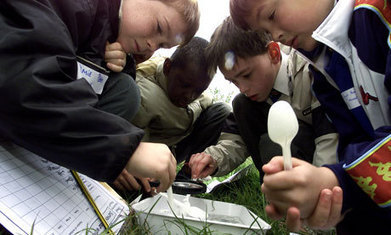 But how does using a different physical space have an impact on learning? Bosch argued that changing the environment helps teachers and students to break free from old habits: "One of the things you can do is create an environment where you cannot function the same way as you used to. What happens when you go out of the school into a theatre, you have to improvise. When you improvise, you start learning and developing."
For example, Kate Gorely described a project to create a library at Rosendale Primary School in London. With a roll of 700 children, the school's Victorian building was cramped and every room was being used as classroom space. Gorely, a parent at the school, had the idea of converting a disused London double-decker bus into a library. With the help of volunteers, the project was completed in nine months. The bus, surrounded by a grassy area, now sits in a previously disused corner of the concrete playground. "What we created was something really magical," said Gorely, "and it became a real focus for break time."
The children were consulted about the design and their answers to a question about where they liked to read included "sitting in a tree" or "lying on a bed". None, reported Gorely, said "I like to sit on my chair at a desk and read a book." As a result, there is only one table in the new library and the space has proved hugely popular: "The children who hadn't had much interest in reading in the classroom were coming and reading books at break time."
Remo about more examples and insights.