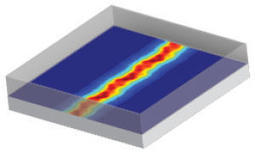 The smallest wires ever developed in silicon -- just one atom tall and four atoms wide -- have been shown by a team of researchers to have the same current-carrying capability as copper wires.
Wires just one atom tall have been created by inserting a string of phosphorus atoms in a silicon crystal by a team of researchers from the Univeristy of New South Wales, Melbourne Univeristy and Purdue University. This image from a computational simulation run of the wires shows electron density as electrons flow from left to right. The wires are 20 times smaller than the smallest wires now available and measure just four atoms wide by one phosphorus atom tall.
Bent Weber, the paper's lead author and a graduate student in the Centre of Excellence for Quantum Computation and Communication Technology at the University of New South Wales, was thrilled with the finding.
"It's extraordinary to show that Ohm's Law, such a basic law, still holds even when constructing a wire from the fundamental building blocks of nature -- atoms," he says.