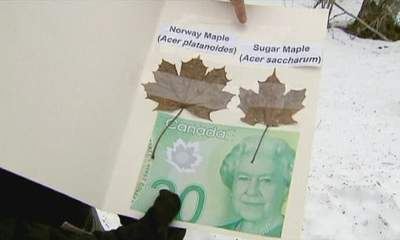 The Bank of Canada blundered by using a Norwegian maple leaf instead of the country's native variety on its new banknotes, plant experts have claimed.
Atlantic Canada Conservation Data Centre botanist Sean Blaney highlighted the difference between the leaf on new \$20, \$50 and \$100 notes and the North American sugar maple.
He said: "It's really hard to deny the image is of a Norway maple."
He said the Norway maple has more lobes - or sections - has a more pointed outline than the sugar maple and the lobe that rises in the centre is shorter than the sugar maple's.