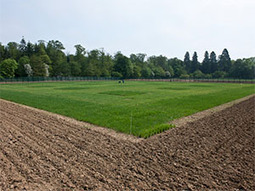 Rothamsted Research has submitted an application to Defra to extend its current GM wheat field trial to include additional autumn-sown cadenza wheat. Rothamsted scientists believe it would be advantageous to gain further data from their experiment, in wheat planted at a different time of year and under different weather conditions with different aphid populations. This will give us additional data under a more diverse range of environmental conditions...
Because the UK's temperate climate permits wheat plant growth during the winter, Cadenza wheat can be sown in either the autumn or the spring and both sowings are harvested in August/September. As such, the extension of the experiment will further increase the relevance to UK farmers and those in other temperate climates by covering a greater range environmental variability. This weather variability has been particularly evident in the UK in the past 12 months...
The controlled experiment being conducted by scientists from Rothamsted Research combines modern genetic engineering with natural plant defences to test whether aphid-repelling wheat works in the field.
Wheat is the most important UK crop with an annual value of about £1.2 billion. Currently a large proportion of UK wheat is treated with a broad spectrum of chemical insecticides to control cereal aphids, which reduce yields by sucking sap from plants and by transmitting barley yellow dwarf virus. Unfortunately, repeated use of insecticides can kill other non-target insect species including the natural enemies of aphids, which itself could have further impacts on biodiversity.
Rothamsted Research scientists, who receive strategic funding from the UK Government... have been seeking novel ecological solutions to overcome this problem in wheat. One approach has been to use an odour, or alarm pheromone, which aphids produce to alert one another to danger. This odour, (E)-β-farnesene, is also produced by some plants as a natural defence mechanism and not only repels aphids but also attracts the natural enemies of aphids, ladybirds for example. This work has been effective in the laboratory and Rothamsted scientists have already conducted the first field trial to investigate whether the GM plants work outside in the field, as well as in the laboratory...
Professor Melanie Welham, BBSRC Director of Science, said: "We face the challenge of producing food in a sustainable way, while minimising effects on the environment. This research is exploring one approach to solving this problem. It is important to carry out these investigations as these data gathered will help to provide answers about the potential of this type of GM technology and what benefits it could offer. Importantly, the findings generated through this extension will add to the picture of how this technology compares to others and is it vital that future decisions are based on scientific evidence."
Via
Alexander J. Stein