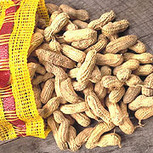 Peanuts, a dietary outcast during the fat-phobic 1990s, have made a comeback, with consumption soaring to its highest level in nearly two decades and more doctors recommending the nuts as part of a heart-healthy diet."
Anna Resurreccion, a University of Georgia food scientist, has focused her research on the resveratrol found in peanuts. By subjecting the nuts to stress — slicing the kernels, or subjecting them to ultrasound — the resveratrol level greatly surpassed that found in red wine, she said.
Resveratrol is a bioactive compound found in peanuts, a polyphenolic antioxidant that is linked with chemo-prevention of some cancers, prevention of cardio-vascular disease, and is associated with delaying the onset of aging.