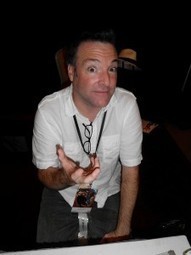 People of Earth, prepare to be destroyed! Zim to "invade" Seattle!
Zim and GIR from Nickelodeon's cult series Invader ZIM to conquer Emerald City Comicon 2013!
Seattle, WA – Invader ZIM cast members RICHARD HORVITZ ("Zim") and RIKKI SIMONS ("GIR") are the first voice actor guests to be announced for the upcoming Emerald City Comicon taking place on March 1st – 3rd, 2013 at the Washington State Convention Center. They will be appearing all three days!
Invader ZIM is the still-embraced animated series from Nickelodeon that aired between 2001 and 2006. Aimed at young teens, the comical show was about an inept alien named "Zim" who was bent on eliminating the Earth. Along with his robot sidekick "GIR", he was constantly fumbling one attempt after the other in his mad quest.
Richard Horvitz is an accomplished actor, having appeared in the 1987 comedy film Summer School with Mark Harmon as well as providing the voice of "Alpha 5" for several years on Mighty Morphin Power Rangers. In addition to his work as "Zim" on Invader Zim, other voice work includes Disney's Mulan, "Daggett Doofus Beaver" on The Angry Beavers and "Billy" on The Grim Adventures of Billy and Mandy.
Rikki Simons is most famous for being the voice of the robot in a dog suit, "GIR" from Invader ZIM. As an artist and writer he is known for science fantasy graphic novels such as Ranklechick and His Three Legged Cat and Super Information Hijinks: Reality Check!. He is also a background painter in animation, most noted for his color design on Invader ZIM.
ECCC's celebrity guest roster includes Sir Patrick Stewart ("Captain Jean-Luc Picard in Star Trek The Next Generation, "Dr. Charles Xavier" from the X-Men films), Billy Dee Williams ("Lando Calrissian" from The Empire Strikes Back and Return of the Jedi), Walter Koenig ("Chekov" from classic Star Trek), Natalia Tena (Harry Potter, Game of Thrones), Paul McGillion (Stargate Atlantis), Michael Shanks (Saving Hope, Stargate SG-1), Kristin Bauer ("Pam" from HBO's True Blood), Gillian Anderson ("Agent Scully" from The X-Files) and Chandler Riggs ("Carl Grimes" on AMC's The Walking Dead).
Tickets for Emerald City Comicon 2013 are ON SALE NOW by visiting www.emeraldcitycomicon.com or any number of local comic book stores, also listed on the website!
ECCC 2013 will feature its most expansive variety of film/television stars, voice actors, comic guests, vendors, merchandise, gaming, contests, artists, speakers and pop culture yet!
With record-breaking attendance of over 53,000 attendees in 2012, Emerald City Comicon has established itself as one of North America's largest and most respected shows of its kind anywhere in the world and has become the premier event of its kind in the Northwest.