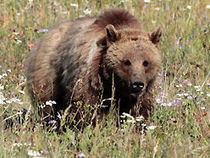 Poaching is poaching, regardless of the animal.
Whether it be a grizzly bear or a fish, poachers who come through Stony Plain court can expect to leave with a hefty fine.
A year and a half ago, in December 2012, three hunters were sentenced in Stony Plain provincial court for killing a grizzly bear. They were handed a total of $30,500 in fines and hunting suspensions from three to six years.
A month earlier, an Edmonton couple were ordered by Stony Plain provincial court to pay a combined $100,000 in fines after poaching a deer within city limits....