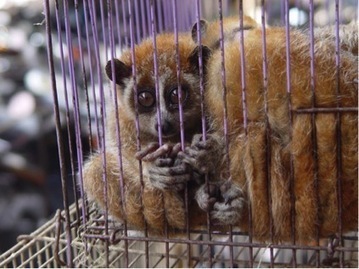 On February 17th, "little monsters" were in uproar: a poisonous primate had the audacity to bite Lady Gaga. A fuzzy prop in her latest music video, the offending slow loris nipped the star's finger and was immediately returned to its box and carried away "in disgrace," its role stricken from the video.
The media loved this story. Due to the victim's high profile and the aggressor's status as the "cutest animal in the world," the incident appeared in print, on television, and all over the Internet. With the exception of conservation blogs, the majority of coverage laughed it off as entertainment, joke-fodder, and a segue into listing tour dates. Within days, it was old news, and nothing more than yesterday's anecdote.
However, the story deserves more than cursory attention. The "disgraced" slow loris, reduced to nothing more than a badly behaved prop, is just one of thousands culled from the wild and forced into the exotic pet trade. A multi-billion dollar industry, this illegal trade of endangered species is fueled by YouTube videos (e.g. "tickling slow loris") and uninformed celebrity endorsements (e.g. Gaga's attempt to feature a loris in her music video) that are tickling species into extinction (Nekaris et al., 2013)...