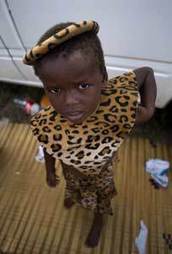 Carrying Zulu warrior shields and draped in leopard skins, the men of South Africa's Shembe Church move hypnotically as they go through the steps of a traditional religious ritual.
But the striking spotted pelts around the dancers' chests are slowly being swapped for synthetic faux fur — thanks to a pact between conservationists and church leaders.
Leopard skins are a symbol of pride and royalty in the Shembe religion, which was founded a century ago in the country's eastern KwaZulu-Natal region with roots in Christianity and Zulu customs....