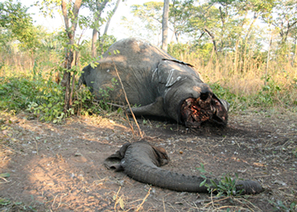 In recent years, Tanzania has witnessed a steep rise in poaching and other forms of crime targeting elephants and other wild animal species. The rate of killings is significantly greater than the elephants' capacity to reproduce.

This has led many wildlife experts to declare the situation as a crisis, worse than the mass slaughter in the 1970s and 1980s, which led to the global ivory trade ban by the Convention on the International Trade in Endangered Species of Wild Fauna and Flora (CITES) in 1989.

Currently, the selling of ivory is done only with the approval of CITES; moreover, raw ivory sales are expected to resume after the expiry of a nine year moratorium in 2017. The CITES approved ivory auction which was held in 2008, saw ivory selling at least US$1,700 per kg....