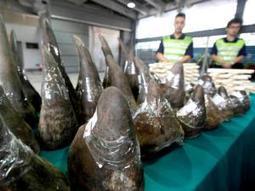 Hong Kong - Hong Kong's government is considering destroying its stockpile of over 30 tonnes of ivory obtained through seizures of elephant tusks, it said Wednesday.
The Chinese government crushed a pile of ivory weighing more than six tonnes on Monday, its first public destruction of ivory, to discourage illegal trade.
"The Agriculture, Fisheries and Conservation Department is aware of the steps taken in other places to destroy forfeited ivory," the Hong Kong government department said in a statement sent to AFP Wednesday....