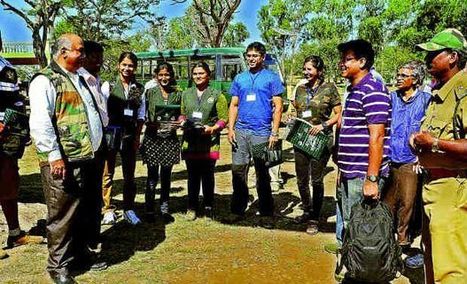 Roars of tigers and trumpeting of elephants did not deter these spirited women.
As part of the exercise, they had to spend the night in the middle of the jungle on top of a rock near an Anti Poaching Camp. They did not mind lack of basic facilities, like proper food and toilets, at the camp, and said that they were willing to spend the next one week in the jungle.
The tiger census is being carried out across all tiger reserves and protected areas in the state. Shruti from Mumbai says she is thrilled to spend time amidst wild animals. "It's a lifetime experience. I will not mind the bone-chilling cold in the forest and I may not even shut my eyes the entire night. I am ready for the grind."
Fourteen women volunteers are staying at the anti-poaching camp at Gundre and N. Begur Ranges of Bandipur Reserve, while some others are staying at forest guesthouses.