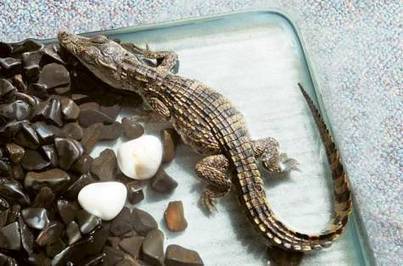 Hatchling was bought by an undercover Gulf News team to expose the illegal trade in exotic pets...
Dubai: A crocodile rescued by Gulf News last month and handed over to Dubai Zoo is in good health.
Gulf News bought 'Larry' from a dealer to expose the trafficking in exotic wildlife for sale as pets in the UAE. Also offered to undercover reporters were lion, tiger and cheetah cubs, slow lorises and orangutans. Their prices ranged between Dh40,000 and Dh175,000.
For Dh1,000, Larry was delivered in a small plastic box.
The hatchling, estimated to be around three months old, is being cared for by Dubai Zoo staff. Larry has gained over 50gm, tipping the scales now at around 150gm. It has also grown longer by a few centimetres, stretching more than 38cm from snout to tail...