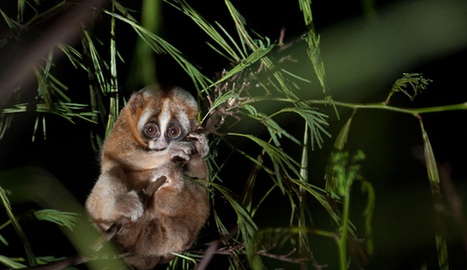 YouTube sensations like the ticklish loris may be deadly cute in more ways than one...
5 REASONS YOU DON'T WANT A LORIS
They stink. Like, really bad. Maybe it has to do with the skin patches on their elbows that produce poison rumored to smell like dirty socks. Or the many other glands they use for signaling and communication. Or the way they mark territory with urine—by washing their hands and feet in it. So yeah, all of that.
They bite. Aside from covering themselves in the elbow juice to thwart parasites, the loris can mix this secretion with its saliva and inject it into you via tiny, curved incisors. Oh, and they also have some nasty fangs. (Though it's likely your pet loris will have had its teeth cut off or dug out. So you'll feel guilty every time you look at your pet's face…and you should.)
They're picky eaters. Lorises are mostly carnivores but have complex diets, so you can't just give them a bowl of cat food and call it a day. To keep them healthy, you'll need to keep live crickets, locusts, and mealworms on hand, not to mention gum and nectar. "Ah, I'll just feed mine fruit," you might think. No. Too much fruit gives lorises diabetes.
They're nocturnal. Nocturnal pets are never fun. Never. To "play" with it, you'll either have to stay up all night or wreck your pet's circadian rhythm, which will likely cause it (and you) stress.
They're wild animals. Neither adorable eyes, nor grippy hands, nor fluffy fluff are ever enough reason to rip a loris out of its home for your own amusement. They're wild animals. And wild animals deserve to be free.