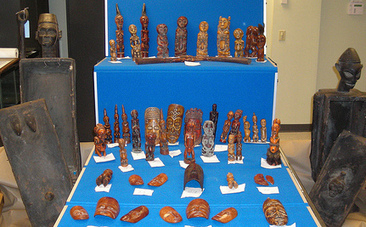 On October 8, the U.S. government will destroy 6 million tons of ivory stored in a warehouse outside of Denver....
If poaching continues at the current rate — as many as 96 African elephants a day were killed last year, a total of 35,000 — elephants could disappear from Africa in a decade....

As Steve Oberholtzer, the U.S. Fish and Wildlife Service special-agent-in-charge, says in the Denver Post, "the only way to end this trade is to get international support. That's the goal of what we're doing with this crush."...
The United States is also seeking to convince African governments to outlaw the sale of ivory trinkets and other items; undertaking a social media campaign in China (where the majority of ivory sold is of "questionable origin"); seeking to work with companies including eBay to halt commerce in items made from ivory and creating a new advisory council of former administration officials and conservation and business leaders to oversee a crackdown on illegal poaching syndicates.
Harsher penalties for wildlife trafficking are also under consideration. There are plenty of American buyers for, and sellers of, ivory. Last year, two Manhattan jewelry dealers pleaded guilty to illegal ivory trading. Earlier this year, a New Mexico man was indicted by a federal grand jury in Pensacola, Florida for the illegal sale of two African elephant tusks....

Read more: http://www.care2.com/causes/us-to-smash-6-millions-tons-of-ivory.html#ixzz2eu5XhUe3