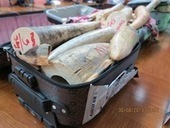 Bangkok, Thailand, 1st September 2013 – Authorities at Suvarnabhumi International Airport last week discovered 105 kg of ivory hidden in four suitcases in the first seizure of illegal elephant ivory at the airport in over a year.

A Vietnamese couple is being held in connection with the case and will be investigated for violating Customs and Wildlife laws.
The bags containing tusks, hundreds of ivory beads and necklaces, and a number of small pieces of raw ivory, had been checked into a flight from Angola and had passed through Ethiopia before being intercepted in transit in Bangkok yesterday evening....