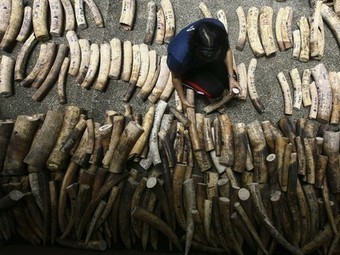 The country's decision was inspired by a National Geographic magazine exposé on the illegal ivory trade....
On June 21 the Philippines will destroy five tons of seized ivory, becoming the world's first ivory-consuming nation to destroy its national ivory stock.
"The destruction of the items would hopefully bring the Philippines' message across the globe that the country is serious and will not tolerate illegal wildlife trade, and denounces the continuous killing of elephants for illicit ivory trade," says Mundita Lim, director of the Protected Areas and Wildlife Bureau (PAWB) of the Department of Environment and Natural Resources.
PAWB, the country's lead wildlife agency, will destroy all the ivory in its possession, except for 106 pieces to be repatriated to Kenya and a few pieces to be retained for training, enforcement, and education purposes.
Five tons is less than half of the total ivory seized by the Philippines in recent years. But most of that seized ivory grew legs and disappeared....
http://news.nationalgeographic.com/news/2013/06/130618-philippines-ivory-crush-elephants-poaching-world-asia/#