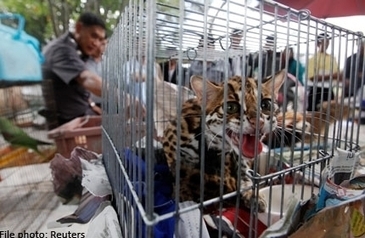 The illegal wildlife trade in Malaysia is rising at worrying levels despite stricter enforcement and heavier penalties. -TNP...
Greedy traffickers who gain huge profits from the cruel and unethical trade are focusing on Malaysia as it is among the few countries which still has tigers, elephants, sun bears, pangolins and other sought-after species.
A live tiger is worth about US$50,000 (S$63,000) in the black market. Its skin alone can be worth up to US$35,000, reported Malaysia's The Star.
A dead tiger's carcass, without the skin, fetches about US$5,000.
Elephant tusks sell for US$1,800 a
Among the animals highly sought after by poachers in Malaysia are wild boar, sambar deer, barking deer, mousedeer and porcupine, and several species of rare birds.
According to the Department of Wildlife and National Parks (Perhilitan), traffickers are motivated by the high profit margins in the wildlife trade...