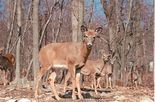 Two years after a new, stiffer poaching law took effect, it is showing an impact as a deterrent and as a better way of punishing people who needlessly kill our state's wild animals.

The latest case in point is the arrest of individuals from Cumberland County with illegally selling bear gallbladders, bear paws and a porcupine. The poached animal parts are in demand because they can sell for thousands of dollars in some countries.
Before the law was put into place, those charged in the case would have faced a summary offense, much like a traffic ticket, and a $500 fine for each of the gallbladders...
But because of the new law, they face jail time and fines of $3,000 for each gallbladder....