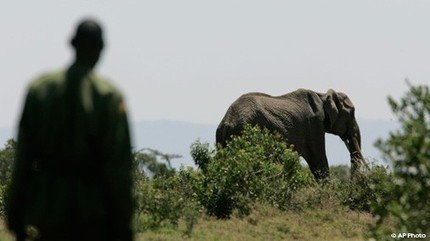 The Sub-Regional Workshop on Wildlife Trafficking and Dismantling Transnational Illicit Networks brought together seven Central African countries from April 3-5.
"Upon flying into Libreville, Gabon I was greeted by lush tropical forest landscapes lining an open coastline and hot, humid temperatures. Wildlife still roam the forests, but are quickly becoming more vulnerable to poaching and trafficking, due to the increase in demand and the premium costs of ivory in illicit markets. In the forests, not far from the capital, poachers are mounting on camelback and illegally crossing national borders, armed with weapons, such as AK-47s and grenade launchers.
These poachers are threatening not only biodiversity, but also national security, and sustainable economic development to the region. The recent massacre of hundreds of forest elephants in Cameroon by poachers required national military action, which further reinforces the urgency for governments in the region to respond swiftly and to effectively work together to combat poaching and wildlife trafficking. In many cases, the same illicit networks that perpetrate the poaching and trafficking of wildlife are also engaged in other forms of transnational criminal activity such as money laundering, corruption, and trafficking in arms and narcotics."...
http://blogs.state.gov/index.php/site/entry/subregional_cooperation_wildlife_enforcement ;