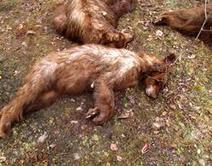 Many say hunting regulations and evolving ethics have made those who hunt legally much more aware of how game should be killed in a sustainable, principled manner. Unfortunately for wildlife, the province is a prime target for poachers.
The whole ethic has changed. There used to be a group of people out there that, they wouldn't kill it if they couldn't poach it. It was what made it fun," he says. "I bought a rifle 30 years ago at a sports shop in Calgary, and the owner of the shop bragged about how he and his uncles and brothers and his dad were the best poachers in the whole province of Manitoba, and regaled me and the fellow that was with me for half an hour on all their poaching exploits. That was common practice 30 years ago, but it's not anymore."
Butters says the community no longer tolerates poachers, and are quick to report suspicious activity.