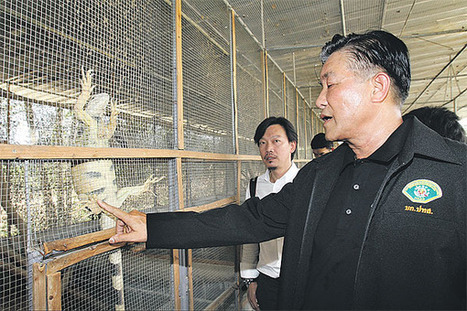 A series of large hauls of live and dead wild animals _ and especially tigers _ over the past two months has blown the lid off the illegal wildlife trade and unlicensed breeding of exotic animals in Thailand.
In that raid, two leopard cubs were impounded. It was estimated that together they would have fetched 1-1.5 million baht if sold to overseas buyers.
Regarding the raid of the private animal shelter in Kaeng Khoi district, Pol Lt Col Atthapol said the site had been designated as a new private zoo, but the owner had not yet obtained a licence from the National Parks, Wildlife and Plant Conservation Department and could not provide documents to show where he had obtained the animals.
Pol Maj Gen Narasak Hemnithi, commander of Natural Resources and Environmental Crime Suppression Division, said authorities would work harder to stamp out the illegal wildlife trade.
He said the agency will no longer rely on complaints to be lodged before acting. Field agents will be used in the target areas to trace the illicit trade, he said.
"Our approach will be similar to the war on drugs," he said.
Pol Maj Gen Narasak said corruption is at the heart of the illegal trade and trafficking of wildlife. In combating the crime, he will go strictly by the book.
"The racket thrives because of the involvement of state officials. They are blinded by something and ignore the illegal activity," he said. He also urged those who have concerns or information about wildlife trade and trafficking to call the division hotline on 1136.