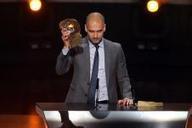 Barcelona (ACN).- The Catalan Josep 'Pep' Guardiola has reached an agreement with FC Bayern München to manage the football team as from next season until 2016.
After quitting FC Barcelona in June to take a year's sabbatical, Guardiola had become the most wanted coach for football clubs the world over. Finally, after rumours circulated pairing him with Manchester City and Chelsea, the Catalan has chosen the German club for its way of understanding football, which is much closer to his approach based on attacking, playing nicely and working with home-grown players. He will be replacing Jupp Heynckes, who is retiring at the end of the current season, in Munich.
The news has been heartily welcomed by the Bayern Munich players and the president, as well as by German media. Guardiola became the most respected coach worldwide after successfully managing FC Barcelona for the last four seasons, during which the Catalan team won 2 UEFA Champions League, 2 FIFA Club World Cups, 3 Spanish Leagues, 3 Spanish Cups, 2 UEFA Super Cups and 3 Spanish Super Cups...