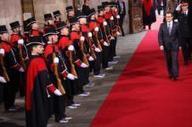 Barcelona (ACN).- Artur Mas, leader of the Centre-Right Catalan Nationalist Coalition (CiU), has sworn the oath as President of the Catalan Government again, two years after he did it for the first time.
After swearing office, Mas delivered a long speech in which he asked Spain to not put the will of Catalans to freely decide on their own future "behind bars".
He also compared Spain and Catalonia's relations with "two boats" following a "collision course". Mas stated he is ready "to change direction" because otherwise "Catalonia will be adrift, and when you are adrift, you are the most likely to crash against the rocks". Mas defended "the legitimacy" of the CiU-ERC agreement, offering "stability". He emphasised that the agreement has been reached by the two largest parties in Catalonia, who were running in the last elections with "two very clear programmes", and it represents the "main part of the voters"...