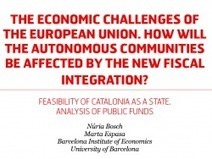 Many citizens of Catalonia hope that this country gets to have the best and highest full sovereignty within the European Union. In this sense, Catalonia as an independent state within the EU is a horizon that we must consider, and that comes up the question of feasibility. What would be
the cost, if any? Which would be the advantages?

This study analyzes the feasibility of Catalonia as a state from the point of view of public finances. Trying to answer questions like the following:

· The potential revenues generated would allow us to maintain
the current state of wellness?
· What additional costs would have as a State?
· Which European states could we compare with, nowadays?