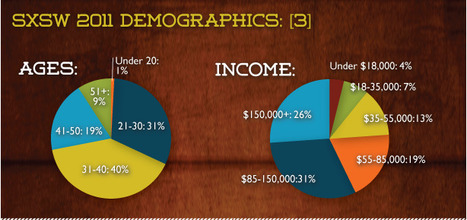 Interesting and surprising SXSW statistics in this article :
Surprisingly, those aged 31 to 40 years old are the major partakers of SXSW, making up 40% of attendees. With almost 10% separating the two factions, 21 to 30 years of age make up 31%, while 41 to 50 shares 19%.
The top 10 industries represented at SXSW are the following: marketing, social media, non-profit, software development, media electronics, web development, consultancy, e-commerce, education and finance and venture capital.
When we talk about the region these folks represent, the Southwest and Northeast make up almost 50% of SXSW attendees. The West is close with 23%, while SXSW fans from the Midwest and Southeast share 10% and 9% respectively. International fans also gather here, making up the other 10%.
Via
axelletess