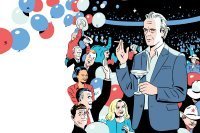 Mitt is stiff, Ann is phony, and Paul Ryan is a liar. British novelist Martin Amis scoped out the RNC and reports back. Plus, exclusive video. ...
"... It has not been pleasant, during this last term, to watch the desacralizing, the chastening, and some might say the attritional coarsening of the young president. And the populace has not liked watching it either: the approval rating of Congress is 9 percent (whereas the first lady stands at a Colin Powell–like 66 ). The violence of Republican rejectionism was vestigially supremacist, just as the love inspired by the Obamas was vestigially abolitionist: the passions that gave rise to 650,000 fratricides do not soon evaporate into nothing. Seeming to confirm this, the audience in Tampa looked practically antebellum, while the audience in Charlotte looked just like the future.
"Henry James once said that America is more like a world than a country. And for the last 70 years, the world, the globe, has been shaped by the example, and the gravitational force, of the American idea. It is an epic responsibility. Obama's least touted virtue is his astonishing self-possession in the face of the planet's highest office. Think back to the primaries, in which Mitt Romney, at various stages, managed to trail to the likes of Michele Bachmann, Newt Gingrich, Rick Perry, Rick Santorum, and Herman Cain. Whenever he did notch up a win, Romney reminded me of Dan Quayle in 1988, tapped for the vice presidency in New Orleans: in the words of Stuart Stevens (now Romney's chief strategist), "he looked like he just did a gram of coke." In common with George W. Bush, Romney shows little resistance to what Maxim Gorky (onetime friend of Lenin) called "the filthy venom of power." Now think back to Obama in Chicago in November 2008: the calmest man in America. Perhaps the calmest man in the world."
Martin Amis in TheDailyBeast