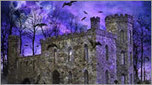 2008 Presidential Campaign Blog - Political Intelligence - Boston.com
An interesting tidbit from Romney's 1994 challenge of Senator Ted Kennedy.
During that campaign, Romney objected to Kennedy's blind trust's purchase in 1981 of a property in Washington D.C., which the trust then leased to federal tenants. Romney called it "a conflict of interest, pure and simple" and rejected Kennedy's argument that he was knew nothing about the trust's investments.
"The blind trust is an age-old ruse," Romney told the Boston Globe in October of that year. ...
Like Kennedy, Romney's campaign has responded to questions about those [questionable] investments by saying that Romney was not aware of the blind trust's contents until yesterday, when the FEC filings were made public. The campaign has also said that Malt tried to align the trust's holdings with Romney's politics "to the best of his ability." ...