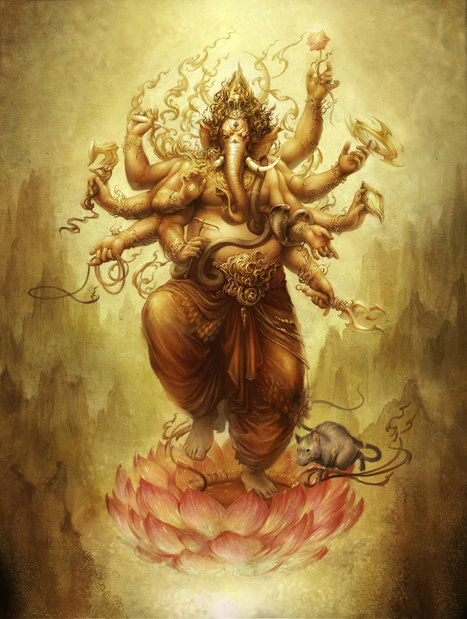 Ganesh from Hindu floklore is a deity in a human form but with the head of an elephant - represents the power that removes obstacles and ensures success...
The portrayal of Ganesha as the blend of human and animal parts symbolizes the ideals of perfection as conceived by Hindu sages and illustrates some philosophical concepts of profound spiritual significance...
Ganesha (Ganesh) rides a rat that represents the subjugated demon of vanity and impertinence....
The conch represents the sound that creates Akash....
The laddu (sweet) represents Sattva....
The snakes represent control over the poisons of the passions and refer to Shiva, father of Ganesha....
The hatchet cuts away the bondage of desires....
The mudra grants fearlessness....
The broken tusk is the one with which Ganesha wrote the Mahabaratha....
Ganesha, the Destroyer of Pride:
Ganesha is also the destroyer of vanity, selfishness and pride.
He is the personification of material universe in all its various magnificent manifestations...
More:
http://en.wikipedia.org/wiki/Ganesha
Post Image: http://bit.ly/SthUsO
Via
Mhd.Shadi Khudr