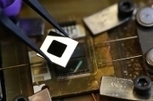 Imagine seeing a dozen pictures flash by in a fraction of a second. You might think it would be impossible to identify any images you see for such a short time. However, a team of neuroscientists from MIT has found that the human brain can process entire images that the eye sees for as little as 13 milliseconds — the first evidence of such rapid processing speed.

That speed is far faster than the 100 milliseconds suggested by previous studies. In the new study, which appears in the journal Attention, Perception, and Psychophysics, researchers asked subjects to look for a particular type of image, such as "picnic" or "smiling couple," as they viewed a series of six or 12 images, each presented for between 13 and 80 milliseconds.

"The fact that you can do that at these high speeds indicates to us that what vision does is find concepts. That's what the brain is doing all day long — trying to understand what we're looking at," says Mary Potter, an MIT professor of brain and cognitive sciences and senior author of the study.
This rapid-fire processing may help direct the eyes, which shift their gaze three times per second, to their next target, Potter says. "The job of the eyes is not only to get the information into the brain, but to allow the brain to think about it rapidly enough to know what you should look at next. So in general we're calibrating our eyes so they move around just as often as possible consistent with understanding what we're seeing," she says.
After visual input hits the retina, the information flows into the brain, where information such as shape, color, and orientation is processed. In previous studies, Potter has shown that the human brain can correctly identify images seen for as little as 100 milliseconds. In the new study, she and her colleagues decided to gradually increase the speeds until they reached a point where subjects' answers were no better than if they were guessing. All images were new to the viewers.

The researchers expected they might see a dramatic decline in performance around 50 milliseconds, because other studies have suggested that it takes at least 50 milliseconds for visual information to flow from the retina to the "top" of the visual processing chain in the brain and then back down again for further processing by so-called "re-entrant loops." These processing loops were believed necessary to confirm identification of a particular scene or object.

However, the MIT team found that although overall performance declined, subjects continued to perform better than chance as the researchers dropped the image exposure time from 80 milliseconds to 53 milliseconds, then 40 milliseconds, then 27, and finally 13 — the fastest possible rate with the computer monitor being used.