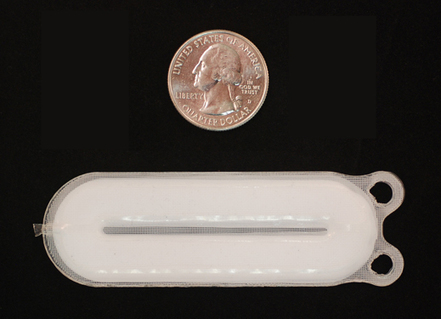 Fourteen years ago, during the darkest moments of the "stem-cell wars" pitting American scientists against the White House of George W. Bush, one group of advocates could be counted on to urge research using cells from human embryos: parents of children with type 1 diabetes. Motivated by scientists who told them these cells would lead to amazing cures, they spent millions on TV ads, lobbying, and countless phone calls to Congress.
Now the first test of a type 1 diabetes treatment using stem cells has finally begun. In October, a San Diego man had two pouches of lab-grown pancreas cells, derived from human embryonic stem cells, inserted into his body through incisions in his back. Two other patients have since received the stand-in pancreas, engineered by a small San Diego company called ViaCyte.
It's a significant step, partly because the ViaCyte study is only the third in the United States of any treatment based on embryonic stem cells. These cells, once removed from early-stage human embryos, can be grown in a lab dish and retain the ability to differentiate into any of the cells and tissue types in the body. One other study, since cancelled, treated several patients with spinal-cord injury (see "Geron Shuts Down Pioneering Stem-Cell Program" and "Stem-Cell Gamble"), while tests to transplant lab-grown retina cells into the eyes of people going blind are ongoing (see "Stem Cells Seem Safe in Treating Eye Disease").
Douglas Melton, a biologist at Harvard University who has two children with type 1 diabetes, worries that the ViaCyte system may not work. He thinks deposits of fibrotic, scarlike tissue will glom onto the capsules, starving the cells inside of oxygen and blocking their ability to sense sugar and release insulin. Melton also thinks it might take immature cells up to three months to become fully functional. And many won't become beta cells, winding up as other types of pancreatic cells instead.
Melton says the "inefficiency" of the system means the company "would need a device about the size of a DVD player" to have enough beta cells to effectively treat diabetes. ViaCyte says it thinks 300 million of its cells, or about eight of its capsules, would be enough. (Each capsule holds a volume of cells smaller than one M&M candy.) Last October, Melton's group announced it had managed to grow fully mature, functional beta cells in the lab, a scientific first that took more than 10 years of trial-and-error research. Melton thinks implanting mature cells would allow a bioartificial pancreas to start working right away.
To encapsulate his cells, Melton has been working with bioengineer Daniel Anderson at MIT to develop their own capsule. Anderson doesn't want to say exactly how it works, but a recent patent filing from his lab describes a container made of layers of hydrogels, some containing cells and others anti-inflammatory drugs to prevent the capsule from getting covered with fibrotic tissue. Both Melton and Anderson are cagey about discussing their results. "We do have some successes we are very excited about," Anderson says. "The bottom line is we have reason to believe it is possible to use Doug's cells in our devices and cure diabetes in animals."
After the stem-cell wars, and then a decade of trying to turn the technology's promises into reality, Henry says he feels convinced that "cells in bags" of some kind are going to be the answer to type 1 diabetes. He's aware that curing rodents doesn't guarantee the technology will help people, but he says the clinical trial he's running is another in a series of "small steps" toward much-improved lives for millions of people. "I am just so positive that this is the future," he says.