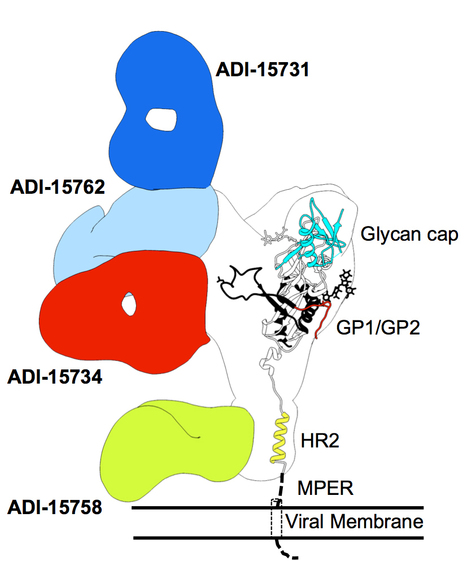 A research team that included scientists from The Scripps Research Institute (TSRI) has identified a new group of powerful antibodies to fight Ebola virus. The antibodies, isolated from the blood of a survivor of the 2014 Ebola outbreak and the largest panel reported to date, could guide the development of a vaccine or therapeutic against Ebola. The new study also revealed a previously unknown site of vulnerability in the structure of the deadly virus.
"Our Science paper describes the first in-depth view into the human antibody response to Ebola virus," said team leader Laura Walker, senior scientist at Adimab, LLC, and an alumna of TSRI's PhD program. "Within weeks of receiving a blood sample from a survivor of the 2014 Ebola outbreak, we were able to isolate and characterize over 300 monoclonal antibodies that reacted with the Ebola virus surface glycoprotein."
Studies at TSRI and other institutions have shown that Ebola virus has several weak points in its structure where antibodies can target and neutralize the virus. However, the immune system typically needs a long period of trial and error to produce the right antibodies against these sites, so researchers have been working with only a small library of anti-Ebola options. Despite this limited library, researchers have had some success in designing antibody "cocktails" that target several weak points at once. One treatment in development, Mapp Biopharmaceutical Inc.'s ZMappTM, is a cocktail of three mouse antibodies modified to resemble human antibodies. This treatment was successful in primate trials and used as an experimental human treatment in the 2014 outbreak.
With ZMapp showing promise, researchers are searching for additional antibodies to fight Ebola. "These types of antibodies could be developed into different types of antibody cocktails or therapeutics, in addition to advancing vaccine design," said Ward.