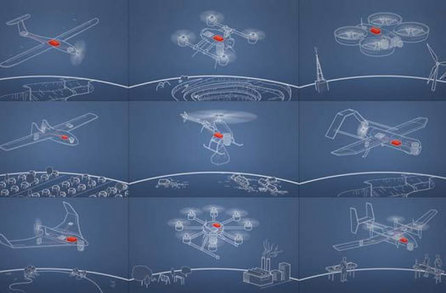 A first-ever standard "operating system" for drones, developed by a startup with MIT roots, could soon help manufacturers easily design and customize unmanned aerial vehicles (UAVs) for multiple applications.
Today, hundreds of companies worldwide are making drones for infrastructure inspection, crop- and livestock-monitoring, and search-and-rescue missions, among other things. But these are built for a single mission, so modifying them for other uses means going back to the drawing board, which can be very expensive.
Now Airware, founded by MIT alumnus Jonathan Downey '06, has developed a platform — hardware, software, and cloud services — that lets manufacturers pick and choose various components and application-specific software to add to commercial drones for multiple purposes.
The key component is the startup's Linux-based autopilot device, a small red box that is installed into all of a client's drones. "This is responsible for flying the vehicle in a safe, reliable manner, and acts as hub for the components, so it can collect all that data and display that info to a user," says Downey, Airware's CEO, who researched and built drones throughout his time at MIT.
To customize the drones, customers use software to select third-party drone vehicles and components — such as sensors, cameras, actuators, and communication devices — configure settings, and apply their configuration to a fleet. Other software helps them plan and monitor missions in real time (and make midflight adjustments), and collects and displays data. Airware then pushes all data to the cloud, where it's aggregated and analyzed, and available to designated users.
If a company decides to use a surveillance drone for crop management, for instance, it can easily add software that stitches together different images to determine which areas of a field are overwatered or underwatered. "They don't have to know the flight algorithms, or underlying hardware, they just need to connect their software or piece of hardware to the platform," Downey says. "The entire industry can leverage that."
Clients have trialed Airware's platform over the past year — including researchers at MIT, who are demonstrating delivery of vaccines in Africa. Delta Drone in France is using the platform for open-air mining operations, search-and-rescue missions, and agricultural applications. Another UAV maker, Cyber Technology in Australia, is using the platform for drones responding to car crashes and other disasters, and inspecting offshore oilrigs.
Now, with its most recent $25 million funding round, Airware plans to launch the platform for general adoption later this year, viewing companies that monitor crops and infrastructure — with drones that require specific cameras and sensors — as potential early customers.