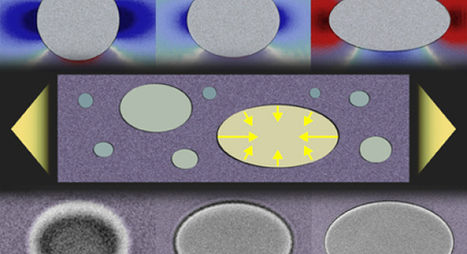 Contrary to intuition, adding pockets of water to solids can actually make them stronger. This finding, the result of research by Yale scientists, offers "a new knob to turn" for engineers, the researchers say. Engineers will be able to add exciting new properties to composite materials–such as electromagnetism–by embedding droplets of liquid, and, on a purely scientific level, the research provides valuable insight into the nature of the material properties at small and large scales–how the relative strengths of a material at one size can be opposite to that at another size.
"This is a great example of how different types of physics emerge at different scales," Dr. Eric Dufresne, associate professor of mechanical engineering and materials science at Yale and principle investigator of the study, told The Speaker. "Shrinking the scale of an object can really change how it behaves."
"Surface tension is a force that tries to reduce the surface area of a material," Dufresne told us. "It is familiar in fluids–it's the force that pulls water into a sponge, makes wet hair clump together and lets insects walk on water. Solids have surface tension too, but usually the 'elastic force' of the solid is so strong that surface tension doesn't have much of an effect. The 'elastic force' of a solid is what makes a solid spring back to its original shape after you stop pushing on it. "As the solid gets stiffer, the liquid droplets need to be smaller in order to have this stiffening or cloaking effect. By embedding the solid with droplets of different materials, one can give it new electrical, optical or mechanical properties.
"It turns out that the importance of surface tension is inversely proportional to the size," Dufresne said of the study. "So what's just a negligible force for big things becomes a strong force for very small things–which in turn can strongly affect the material as a whole."
The report, "Stiffening solids with liquid inclusions," was completed by Drs. W. Style, Rostislav Boltyanskiy, Benjamin Allen, Katharine E.Jensen, Henry P. Foote, John S. Wettlaufer, and Eric R. Dufresne, and was published in December's Nature Physics.