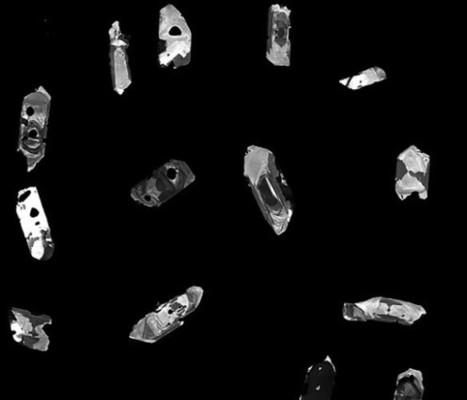 Conditions on Earth for the first 500 million years after it formed may have been surprisingly similar to the present day, complete with oceans, continents and active crustal plates.
This alternate view of Earth's first geologic eon, called the Hadean, has gained substantial new support from the first detailed comparison of zircon crystals that formed more than 4 billion years ago with those formed contemporaneously in Iceland, which has been proposed as a possible geological analog for early Earth.
The study was conducted by a team of geologists directed by Calvin Miller, the William R. Kenan Jr. Professor of Earth and Environmental Sciences at Vanderbilt University, and published online this weekend by the journal Earth and Planetary Science Letters in a paper titled, "Iceland is not a magmatic analog for the Hadean: Evidence from the zircon record."
From the early 20th century up through the 1980's, geologists generally agreed that conditions during the Hadean period were utterly hostile to life. Inability to find rock formations from the period led them to conclude that early Earth was hellishly hot, either entirely molten or subject to such intense asteroid bombardment that any rocks that formed were rapidly remelted. As a result, they pictured the surface of the Earth as covered by a giant "magma ocean."
Two schools of thought have emerged: One argues that Hadean Earth was surprisingly similar to the present day. The other maintains that, although it was less hostile than formerly believed, early Earth was nonetheless a foreign-seeming and formidable place, similar to the hottest, most extreme, geologic environments of today. A popular analog is Iceland, where substantial amounts of crust are forming from basaltic magma that is much hotter than the magmas that built most of Earth's current continental crust.
"We reasoned that the only concrete evidence for what the Hadean was like came from the only known survivors: zircon crystals – and yet no one had investigated Icelandic zircon to compare their telltale compositions to those that are more than 4 billion years old, or with zircon from other modern environments," said Miller.