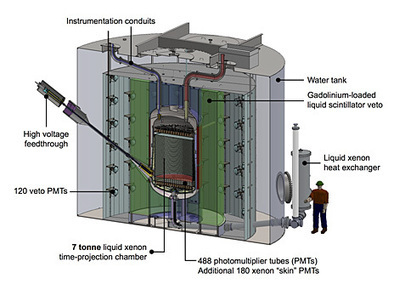 The U.S. Department of Energy's Office of Science and the National Science Foundation recently gave the go-ahead to LUX-Zeplin (LZ), a key experiment in the hunt for dark matter, the invisible substance that may make up a large part of the universe.
"We emerged from a very intense competition," said McKinsey, whose ongoing LUX (Large Underground Xenon) experiment looks for dark matter with a liquid xenon detector placed 4,850 feet below the Earth's surface. The device resides at the Sanford Underground Research Facility, in South Dakota's Black Hills.
The new, LZ device will boost the size and effectiveness of the original LUX technology.
"We have the most sensitive detector in the world, with LUX," McKinsey said. "LZ will be hundreds of times more sensitive. It's gratifying to see that our approach is being validated."
LZ is an international effort, involving scientists from 29 institutions in the United States, Portugal, Russia, and the United Kingdom. The DOE's Lawrence Berkeley National Lab manages the experiment.
Dark matter is a scientific placeholder, of sorts. Although it can't be seen or felt, its existence is thought to explain a number of important behaviors of the universe, including the structural integrity of galaxies.
LZ's approach posits that dark matter may be composed of Weakly Interacting Massive Particles – known as WIMPs – which pass through ordinary matter virtually undetected. The experiment aims to spot these particles as they move through a container of dense, liquid xenon. That container will be surrounded by a tank of water, along with an array of sophisticated light sensors and other systems.
Via
José Gonçalves