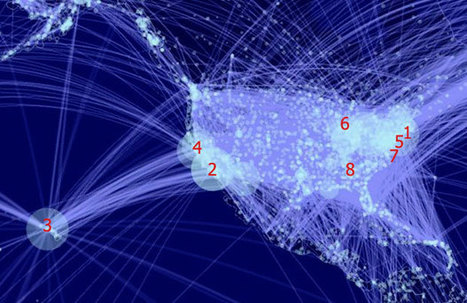 After SARS broke out in China in 2002, it reached 29 countries in seven months. Air travel is a major reason why such infectious diseases spread throughout the globe so quickly. And yet even with such examples to study, scientists have had no way to precisely predict how the next infectious disease might spread through the nexus of world air terminals—until now.
In 2010 MIT engineer Ruben Juanes set out to model the movement of a pathogen from a single site of departure to junctions worldwide. If he could predict the flow of disease from a given airport and rank the most contagious ones, government officials could more effectively predict outbreaks and issue lifesaving warnings and vaccines. So Juanes and his team used a computer simulation to seed 40 major U.S. airports with virtual infected travelers. Then they mimicked the individual itineraries of millions of real passengers to model how people move through the system. The travel data included flights, wait times between flights, number of connections to international hubs, flight duration, and length of stay at destinations.
JFK International in New York—one of the world's most heavily trafficked airports—emerged as the biggest culprit in disease spread. Honolulu, despite having just 40 percent of JFK's traffic, came in third because of its many long-distance flights. The biggest surprise: The number of passengers per day did not directly correlate to contagion risk.