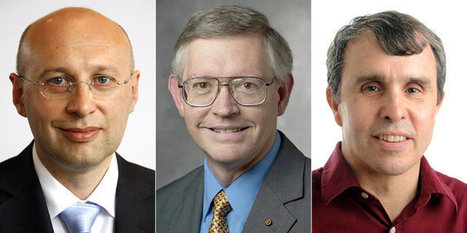 Three scientists, two American and one German, received this year's Nobel Prize in Chemistry for circumventing a basic law of physics and enabling microscopes to peer at the tiniest structures within living cells.
The 2014 laureates, announced Wednesday by the Royal Swedish Academy of Sciences, are Eric Betzig, 54, of the Howard Hughes Medical Institute in Virginia; Stefan W. Hell, 51, of the Max Planck Institute for Biophysical Chemistry in Germany; and William E. Moerner, 61, of Stanford University in California.
For centuries, optical microscopes — those that magnify ordinary visible light — have allowed biologists to study organisms too small to be seen with the naked eye. But a fundamental law of optics known as the diffraction limit, first described in 1873, states that the resolution can never be better than half the wavelength of light being looked at.
For visible light, that limit is about 0.2 millionths of a meter, or one-127,000th of an inch. A human hair is 500 times as wide. But a bacterium is not much larger than the size of the diffraction limit, and there was little hope of seeing details within the cell like the interaction of individual proteins. Other technology like the electron microscope, which generates images from beams of electrons instead of particles of light, achieves higher resolution, but it has other limitations, like requiring the sample to be sliced thin and placed in a vacuum. For biological research, that generally meant the subject of study had to be dead.
At first glance, circumventing the diffraction limit would seem a foolish pursuit, like trying to invent a perpetual motion machine or faster-than-light travel — doomed by fundamental limits on how the universe works. Nonetheless, Dr. Hell, who was born in Romania, started working on the problem after finishing his doctorate at the University of Heidelberg in 1990. After failing to find financing in Germany to pursue his ideas, he obtained a research position at the University of Turku in Finland in 1993. A year later, he published his theoretical proposal for achieving sharper microscopic pictures.
Dr. Hell's insight was that by using lasers, he could restrict the glow to a very small section. That way, for structures smaller than the diffraction limit, "You can tell them apart just by making sure that one of them is off when the other is on," he said in an interview.
Other scientists could have just taken his proposal and made it work in the laboratory long before he did, he said, adding: "I was a sort of nobody in those days. I didn't even have a lab, really. People could have taken it as a recipe, could have done it. But they didn't do it. Why didn't they do it? Because they thought it wouldn't work that way."