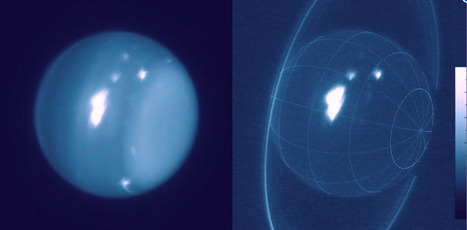 A team led by Berkeley astronomer Imke de Pater has been observing Uranus regularly for years, and recently found that the normally bland face of the planet has become increasingly stormy, with enormous cloud systems so bright that for the first time ever, amateur astronomers are able to see details in the planet's hazy blue-green atmosphere.
"This type of activity would have been expected in 2007, when Uranus's once-every-42-year equinox occurred and the sun shined directly on the equator," noted co-investigator Heidi Hammel of the Association of Universities for Research in Astronomy. "But we predicted that such activity would have died down by now. Why we see these incredible storms now is beyond anybody's guess."
In total, de Pater, Hammel and their team detected eight large storms on Uranus's northern hemisphere when observing the planet with the Keck Observatory on Aug. 5 and 6. One was the brightest storm ever seen on Uranus at 2.2 microns, a wavelength that senses clouds just below the tropopause, the lower boundary of the stratosphere – where the pressure ranges from about 300 to 500 mbar, or half the pressure at Earth's surface. The storm accounted for 30 percent of all light reflected by the rest of the planet at this wavelength. When amateur astronomers heard about the activity, they turned their telescopes on the planet and were amazed to see a bright blotch on the surface of a normally boring blue dot.
French amateur astronomer Marc Delcroix processed the amateur images and confirmed the discovery of a bright spot on an image by French amateur Régis De-Bénedictis, then in others taken by fellow amateurs in September and October. He had his own chance on Oct. 3 and 4 to photograph it with the Pic du Midi one-meter telescope, where on the second night, "I caught the feature when it was transiting, and I thought, 'Yes, I got it!'" said Delcroix. I was thrilled to see such activity on Uranus. Getting details on Mars, Jupiter or Saturn is now routine, but seeing detail on Uranus and Neptune is the new frontier for us amateurs and I did not want to miss that," said Delcroix, who works for an auto-parts supplier in Toulouse and has been observing the skies – Jupiter in particular – with his backyard telescope since 2006 and, since 2012, occasionally with the Pic du Midi telescope. "I was so happy to confirm myself these first amateur images on this bright storm on Uranus, feeling I was living a very special moment for planetary amateur astronomy."