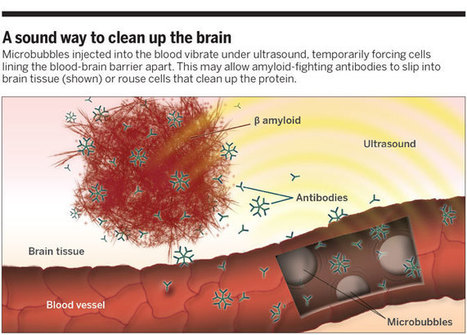 From imaging babies to blasting apart kidney stones, ultrasound has proved to be a versatile tool for physicians. Now, several research teams aim to unleash the technology on some of the most feared brain diseases.
The blood-brain barrier, a tightly packed layer of cells that lines the brain's blood vessels, protects it from infections, toxins, and other threats but makes the organ frustratingly hard to treat. A strategy that combines ultrasound with microscopic blood-borne bubbles can briefly open the barrier, in theory giving drugs or the immune system access to the brain. In the clinic and the lab, that promise is being evaluated.
This month, in one of the first clinical tests, Todd Mainprize, a neurosurgeon at the University of Toronto in Canada, hopes to use ultrasound to deliver a dose of chemotherapy to a malignant brain tumor. And in some of the most dramatic evidence of the technique's potential, a research team reports this week in Science Translational Medicine that they used it to rid mice of abnormal brain clumps similar to those in Alzheimer's disease, restoring lost memory and cognitive functions. If such findings can be translated from mice to humans, "it will revolutionize the way we treat brain disease," says biophysicist Kullervo Hynynen of the Sunnybrook Research Institute in Toronto, who originated the ultrasound method.
Some scientists stress that rodent findings can be hard to translate to humans and caution that there are safety concerns about zapping the brain with even the low-intensity ultrasound used in the new study, which is similar to that used in diagnostic scans. Opening up the blood-brain barrier just enough to get a beneficial effect without scorching tissue, triggering an excessive immune reaction, or causing hemorrhage is the "crux," says Brian Bacskai, a neurologist at Massachusetts General Hospital in Boston who studies Alzheimer's disease and used to work with Hynynen.
Safely and temporarily opening the blood-brain barrier is a long-sought goal in medicine. About a decade ago, Hynynen began exploring a strategy combining ultrasound and microbubbles. The premise is that ultrasound causes such bubbles to expand and contract, jostling the cells forming the blood-brain barrier and making it slightly leaky.
That could help cancer physicians such as Mainprize deliver chemotherapy drugs into the brain. Hynynen also hypothesized that the brief leakage would rev up the brain's inflammatory response against β amyloid—the toxic protein that clumps outside neurons in Alzheimer's and may be responsible for killing them. Disposing of such debris is normally the role of the microglia, a type of brain cell. But previous studies have shown that when β amyloid forms clumps in the brain, it "seems to overwhelm microglia," Bacskai says. Exposing the cells to anti bodies that leak in when the blood-brain barrier is breached could spur them to "wake up and do their jobs," he says. Some antibodies in blood may also bind directly to the β-amyloid protein and flag the clumps for destruction.
Hynynen and others have recently tested the ultrasound strategy in a mouse model of Alzheimer's. In December 2014, for example, he and colleagues reported in Radiology that the method reduces amyloid plaques in a strain of mice engineered to develop the deposits, leading to improvements in cognition and spatial learning. Microglia consumed more β amyloid after the treatment, suggesting the cells do play a role in the effect, says neuroscientist Isabelle Aubert, who collaborates with Hynynen at Sunnybrook.