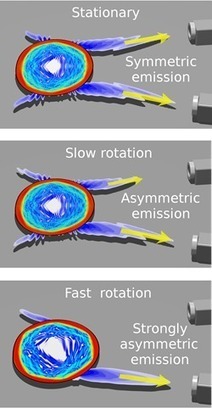 A pair of light waves – one zipping clockwise the other counterclockwise around a microscopic track – may hold the key to creating the world's smallest gyroscope: one a fraction of the width of a human hair. By bringing this essential technology down to an entirely new scale, a team of applied physicists hopes to enable a new generation of phenomenally compact gyroscope-based navigation systems, among other intriguing applications.
"We have found a new detection scheme that may lead to the world's smallest gyroscope," said Li Ge, The Graduate Center and Staten Island College, City University of New York. "Though these so-called optical gyroscopes are not new, our approach is remarkable both in its super-small size and potential sensitivity."
Ge and his colleagues – physicist Hui Cao and her student Raktim Sarma, both at Yale University in New Haven, Connecticut – recently published their results in The Optical Society's (OSA) new high-impact journal Optica.
More than creative learning toys, gyroscopes are indispensable components in a number of technologies, including inertial guidance systems, which monitor an object's motion and orientation. Space probes, satellites, and rockets continuously rely on these systems for accurate flight control. But like so many other essential pieces of aerospace technology, weight is a perennial problem. According to NASA, it costs about $10,000 for every pound lifted into orbit, so designing essential components that are smaller and lighter is a constant struggle for engineers and project managers.
If the size of an optical gyroscope is reduced to just a fraction of a millimeter, as is presented in the new paper, it could then be integrated into optical circuit boards, which are similar to a conventional electric circuit board but use light to carry information instead of electric currents. This could drastically reduce the equipment cost in space missions, opening the possibility for a new generation of micro-payloads.