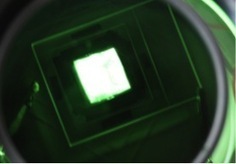 Even as the 2014 Nobel Prize in Physics has enshrined light emitting diodes (LEDs) as the single most significant and disruptive energy-efficient lighting solution of today, scientists around the world continue unabated to search for the even-better-bulbs of tomorrow.
Enter carbon electronics. Electronics based on carbon, especially carbon nanotubes (CNTs), are emerging as successors to silicon for making semiconductor materials. And they may enable a new generation of brighter, low-power, low-cost lighting devices that could challenge the dominance of light-emitting diodes (LEDs) in the future and help meet society's ever-escalating demand for greener bulbs.
Scientists from Tohoku University in Japan have developed a new type of energy-efficient flat light source based on carbon nanotubes with very low power consumption of around 0.1 Watt for every hour's operation—about a hundred times lower than that of an LED.
In the journal Review of Scientific Instruments, from AIP publishing, the researchers detail the fabrication and optimization of the device, which is based on a phosphor screen and single-walled carbon nanotubes as electrodes in a diode structure. You can think of it as a field of tungsten filaments shrunk to microscopic proportions.
They assembled the device from a mixture liquid containing highly crystalline single-walled carbon nanotubes dispersed in an organic solvent mixed with a soap-like chemical known as a surfactant. Then, they "painted" the mixture onto the positive electrode or cathode, and scratched the surface with sandpaper to form a light panel capable of producing a large, stable and homogenous emission current with low energy consumption.
"Our simple 'diode' panel could obtain high brightness efficiency of 60 Lumen per Watt, which holds excellent potential for a lighting device with low power consumption," said Norihiro Shimoi, the lead researcher and an associate professor of environmental studies at the Tohoku University.