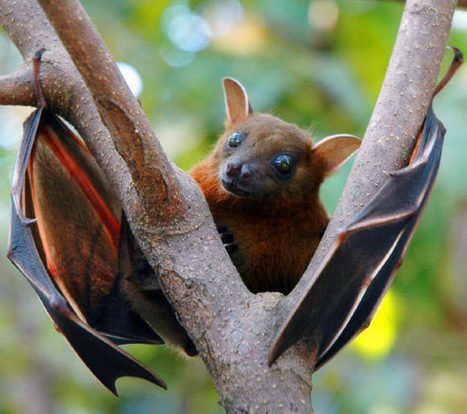 Old World fruit bats, also known as the flying foxes or megabats, are members of the family Pteropodidae, which contains 41 genera and about 170 species. These bats are restricted to the Old World in a tropical and subtropical distribution, ranging no further than the eastern Mediterranean and South Asia, and are absent from northwest Africa, southwest Australia, a majority of the Palearctic region, and all of the Western Hemisphere.
In search of the origin of bat echolocation, Dr Yossi Yovel of Tel Aviv University and his colleagues studied how Old World fruit bats, long classified as non-echolocating, orient in darkness.
They selected a total of 19 wild individuals representing three fruit bat species to find that all of them used click-based echo sensing.
"I was surprised by the fact that all of the fruit bats we recorded clicked and by the fact that clicks are produced by the wings," said Dr Yovel, who is the senior author of the paper published in the journal Current Biology.
"We did all we could to prove it wrong, including sealing the bats' mouths and anesthetizing their tongues, but nothing stopped them from clicking, except for when we interfered with their wing flaps."
Further study showed that two of the three species – the Cave nectar bat (Eonycteris spelaea) and the Lesser short-nosed fruit bat (Cynopterus brachyotis) – increased their clicking rate by a factor of three to five or even more when placed in a dark tunnel, implying that the clicks are a natural behavior for the bats.
Tests of the bats' ability to find their way in the dark showed that they do have echolocation abilities, although they are poorer than those of other echolocating species.