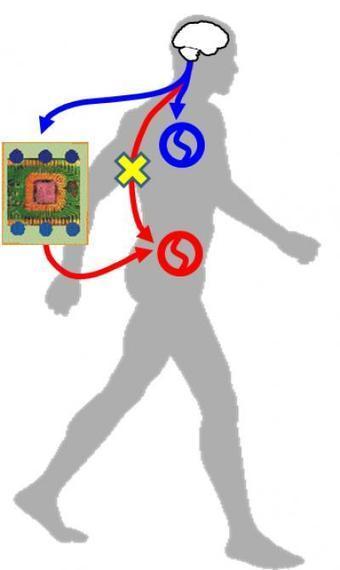 Japanese researchers have created an "artificial neural connection" (ANC) from the brain directly to the spinal locomotion center in the lower thoracic and lumbar regions of the spine, potentially one day allowing patients with spinal-cord damage, such as paraplegics, to walk.
The study led by Shusaku Sasada, research fellow, and Yukio Nishimura, associate professor, both of the National Institutes of Natural Sciences (NINS), was published online in The Journal of Neuroscience on August 13, 2014.
Neural networks called "central pattern generators" (see Ref. 2 and 3 below) in the locomotion center (lower than the lesion site) are capable of producing rhythmic movements, such as walking, even when isolated from the brain, the researchers suggest.
The researchers worked with neurologically intact subjects who are were asked to allow the computer to passively control their leg movements.
As a surrogate, the researchers used muscle signals normally generated by the arm movements associated with leg movements. These signals were used to control a computer-driven magnetic device that non-invasively (externally) stimulated neurons in the spinal locomotion center.
Additional simultaneous peripheral electrical stimulation to the foot via the ANC enhanced this walking-like behavior. Kinematics of the induced behaviors were identical to those observed in normal voluntary walking. The researchers said they are planning clinical studies in the near future.