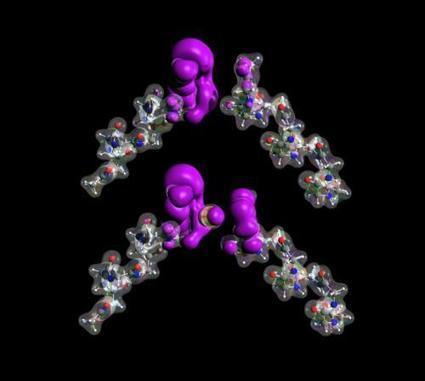 How does consciousness work? Few questions if any could be more profound. Lipid solubility appears to be one key clue to anesthesia. The empirical cornerstone of anesthesiology is a 100 year old rule of thumb known as the Meyer-Overton relationship. It provides that the potency of general anesthetics (GAs), regardless of their size or structure, is approximately proportional to how soluble they are in lipids. Since that time, studies have suggested that GAs can also bind to lipid-like parts of proteins, presumably those near or embedded within cell membranes.
The first real stab at explaining the "how" of anesthetics, as opposed to just the "where", has now been taken by Turin and his colleagues Efthimios Skoulakis and Andrew Horsfield. Their new work, just published in PNAS, suggests that volatile anesthetics operate by perturbing the internal electronic structure of proteins. This would lead to changes in electron currents in those proteins, in cells, and in the organism. They don't just theorize about these effects, they actually measure the electron currents in anesthetized flies using a technique known as electron spin resonance (often called electron paramagnetic resonance).
ESR is similar to nuclear magnetic resonance, the techno-phenomenon at heart of the modern MRI machine. The main difference is that in ESR excited electron spins are measured instead of proton resonance. Typically, microwaves are applied in the presence of a magnetic field to a sample (or whole organism) inside the resonator cavity of an ESR spectrometer.What Turin and colleagues have shown is that the total amount of free electron spins in fruit flies increases when they are exposed to general anesthetics. The amount of free spins generated during anesthesia is independent of melanin content and far larger than any signal previously measured from free radicals which are the other source of spin.
To account for the fact that a very broad class of compounds act as volatile anesthetics the researchers propose a unitary mechanism for their action involving electrons. They note that the smallest among them, Xenon (Xe), presents a puzzle to chemical theories of anesthetic action. Xe is a wonderful (if expensive) anesthetic but it has no biologically relevant chemistry to speak of— it is completely inert. Furthermore, it persists as a perfect sphere of electron density and so is devoid of any possibly interesting shape. However, as Turin and colleagues point out, "Xe has physics". In particular, it can conduct electrons, as the IBM researchers who first used a scanning tunneling microscope to write the company's logo in Xe atoms found out.
To see whether this property would apply to all anesthetics, and not just Xe, Turin used a modeling technique called density functional theory to show that Xe and other anesthetics effect the highest occupied molecular orbit (HOMO) of the alpha helices common to membrane proteins. The HOMO level for organic molecules or semiconductors is analogous to what the valence band maximum is to inorganic semiconductors. Intriguingly, while all the anesthetics were found to extend the alpha helix HOMO level, similar molecules with strong convulsant effects on the brain, but no anesthetic effects, had the smallest HOMO effect.